You have worked in many different countries. Can you share your thoughts on/insights on working abroad as an architect? How was that experience, especially working with different clients with different expectations?
As traveling helps us understand more about people and different cultures apart from our own, architecture and design becomes a contributing factor to that experience as well. I found working and living abroad has helped me more not only as a person, but as a designer. I have learned living in different cities and working with different clients may include different expectations on projects and goals. I learned to listen more, as the way I learned may not always be the best solution. That to me, was the greatest difficulty– to allow myself to understand and also accept new expectations. Accept change, accept new expectations. It's ok to be uncomfortable, because it will only make you stronger in the long run. We learn as we grow. And, the more we learn the greater we become. Different construction methods helped me understand alternatives as to how things may become built that are more efficient, including ways we can work together to make something work. Client expectations are always different, whether or not they are from the same country. But, different cultures have different social and business norms that have given me a greater sense of expectations and have abled me to work more effectively. I find the more we can familiarize ourselves with living and working in different cultures and societies, we are then able to easily adapt to what may not be familiar and can only makes us stronger and able to propose solutions in the future that may have not been known to us previously.
Many architects are willing to get projects and jobs abroad – what would your suggestions and advices be to them? What kind of a career route should they have in order to win business abroad or work in international architecture firms?
I believe the first and foremost piece of advice, is to be incredibly patient. What you may be used to in your respective city and/or culture, is not always the same in another; even if they speak the same language. My second piece of advice would be to read, read, and do more reading. Familiarizing oneself with the goings on in those particular places you may be interested in in obtaining work overseas. Know about the local government regulations, its markets, its currency, and where people are going. Find out what institutions are sponsoring events. Having a clear picture of the state of the state, so to speak, so then you can pinpoint and gather ideas that may become of interest to you–and embark on them. I also suggest learning different languages, studying its history, and again reading about its culture. Also, if one is a student, I would suggest applying for a job or internship in a city that may interest you, so you can become familiar with its people and the work environment. As a student I lived in England, France, and Italy, then after graduation I worked in London for a few years before graduate school. Attending summer classes at a University while working overseas, may help you obtain housing, or an apartment; which can help a great deal. Working overseas gave me a perspective to study and learn things I may have not been aware of, and then allowing myself to know if that is what interests me. It also gave me a plethora of knowledge to know differences in project town planning between local jurisdictions, to also becoming familiar with different construction methods and formats. If one is looking to work overseas as a present professional, I would look to the firms that interest you the most, and become familiar with what projects they are working on and who they are connected to: from trade professionals to educators to clients. My professors introduced me to firms overseas, and connecting with ones that may already have a connection to firms helps. As a professor, I also helped students connect with firms I had worked with overseas and/or with ones that I had come in contact with over the years. Find out on LinkedIn or social media, who may know whom, to obtain a connection. Keeping connected and in touch with former colleagues, professors, and classmates can greatly expand your network and also help connect with firms, as well as potential future clients. Even sending a handmade (drawing) holiday card/or email to former colleagues, professors, classmates greatly helps those remember you, as memory can serve us very well.
As far as we remember, you worked with Peter Moreno and worked on the Chanel Boutique design project. What was the experience like and were there any factors or moments that separate Peter Moreno from the other companies?
I worked with Peter Marino after graduate school, which was almost 20 years ago. I learned at that time how to integrate art with architecture and how the two can become further integrated besides the typical composition of an art piece within a room and/or space. I also studied art history in college and taking the time to further study art as it may relate to architecture, can greatly help us as designers see space, lighting, color, perspective, design and experience differently. Lastly, and what I gained most is how retail design can incorporate an artistic and fantastical experience in order to display a product in a way to present it as art. I also worked on hospitality work, particularly the Four Seasons Biltmore Santa Barbara, where we were able to preserve much of the original architecture and design, but also provide new and modern facilities and services.
We're sure you're following up and staying up to date on what is going on architecture world globally. After this covid-19, which areas do you think architecture and design will be have more potential ? ( Like sectors, regions, projects, etc)
I believe there will be more of an integration between the home and office. Pre-covid, we saw home offices as more of an afterthought, or a table/desk in a corner of a living area, or the bedroom. Now, and more than ever, there will be of more interest in planning of home spaces to integrate, and/or separate home offices, and not as an after thought. Also, future home buyers or renters will be keen to think and plan how the office space will take shape within their new home environment. There will also be a resurgence of re-thinking the entry way, or mud room spaces–rather than a simple closet, or a coat rack; we will look at how we can incorporate back to lost secondary entry spaces, or rather–vestibules. These spaces will provide us with more areas to remove and store items of clothing, shoes, accessories, that we shouldn't bring into the main living spaces. Even sinks, to wash hands and items may become more of a necessity. I believe designers and architects will look again to the past, how spaces were designed to relate to the human condition and particularly its function. An entire procession of spaces we see in Nineteenth and early Twentieth century houses were built to provide for the function of the human condition. Stoops were created to provide a level up so the residents of the house could enter without stepping in puddled water and excess dirt, which then they entered into a vestibule and then into the main entry space. All these sequence of parts related to the greater whole of the resident and toward living in a clean and sanitary space will become integral and commonplace again.
Retail, of course, will be a very big change, toward something that is even more integrated with marketing and commerce, and of course the digital universe – becoming a new new omnichannel experience. Asia is about five+ years ahead of us, integrating the digital realm of product and retail experience direct with the consumer, via wechat and weibo. Larger retailers will begin to incorporate more experiences within their original mono system; combining grocery shopping along with a park system, and hair salon along with a movie theater. There will be a drastic shift at first, possibly back to normal in the future; but regardless, this gives us a platform to rethink what the future may become and become more sustainable, and where we can begin to learn to adapt to any future change or shift. We must be ready at all times to adapt and to accept change. Retailers may need to shift their investments into more creative ways, rather than simply data, as to how the consumer can become more familiar with their product without stepping foot into a store. Retailers will become more a part of their customer, as service more than ever will be paramount. Robots, possibly, but ultimately the shift will never replace the connection we so desire and wish to receive between a one-on-one human connection and interaction, as that is what creates a memorable experience. We see now how much we miss a 'real' connection, and for that, we will want it even more. It may become a 'choose your own adventure' experience prior to shopping, but the store will always be central to the experience. Whether the store comes to you, or whether you come to the store; the new normal will become normal.
You worked on different projects with Eight Inc in Dubai, Turkey and USA. What were your experiences working in Middle East and Turkey? What would your advices be to architects willing to work in these regions?
Working in the Middle East was extraordinary, particularly in Istanbul, Turkey. Turkey, I believe, has yet to be revealed to the greater global design community–its rich history, culture, people, and most especially its arts and architecture, both past, present and future is one everyone should be watching. Geographically located between Europe and Asia, it has more potential than ever to become a global entity that's central to the worlds economy and the arts. That is the beauty of Turkey, being between two continents, where it feeds on these cultures, yet still being its own unique world.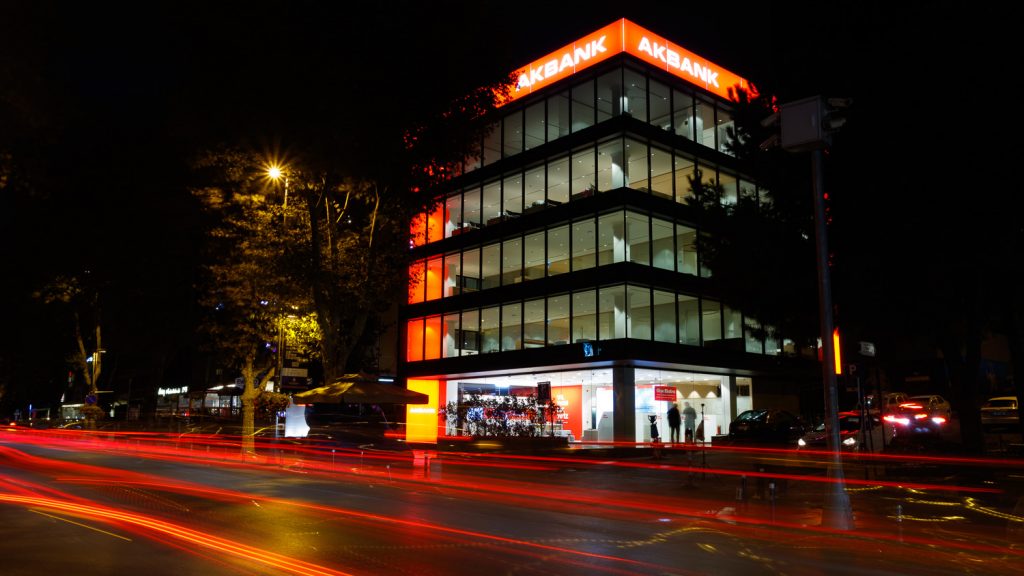 While in Turkey, I worked on the Akbank flagship and new bank branches to adapt and evolve to be fit for the future.
These new branches designed with a holistic viewpoint–a new concept that humanizes the banking experience, by prioritizing seamless service, transparency, and empathy. The new branches have become a place people want to spend time in, and not just do their banking. We also designed new ATMs that integrate services beyond cash dispensing and balance checking–we gave back to the community, providing WiFi, benches to sit on, bike racks, and power outlets. The more we integrate the better the customer will remember and want to return in the future. We listened to the clients and provided even more services to help them. My advice to those wanting to work in the region, is to first familiarize yourself with history of the place, find out via social media its arts and architecture goings on: museums, artists, events, festivals, etc, then connect and be proactive to meet with them. Look into the trade companies, what are there events and happenings–which is a great place to connect and network with other architects and designers, artists, product designers, furniture designers etc. Also, search the local universities, find out what lectures and events that may be going on, meet the professors and ask to sit in on design presentations. Look into the local art and architecture websites, the particular art/ designer work spaces, such as Kolektif House, that have events and lectures and meet people. Everyone speaks English, and the people of Turkey are extremely warm, generous, and hospitable. Turkey is a wonderful place, for once you start a conversation, I am certain you will find things that you may not have known existed and were even possible. I always recommend, that even a path of research or investigation may not at first provide what you are looking for, it may then provide you with something else that may lead you to other exciting paths of information or knowledge. Accept change and accept unfamiliar territory. Be patient and welcoming to new experiences and expectations. And, one of the most important things I have learned, is that you can travel anywhere, but once you get a chance to live in a new city and work, is when your experience and learning of that place becomes priceless.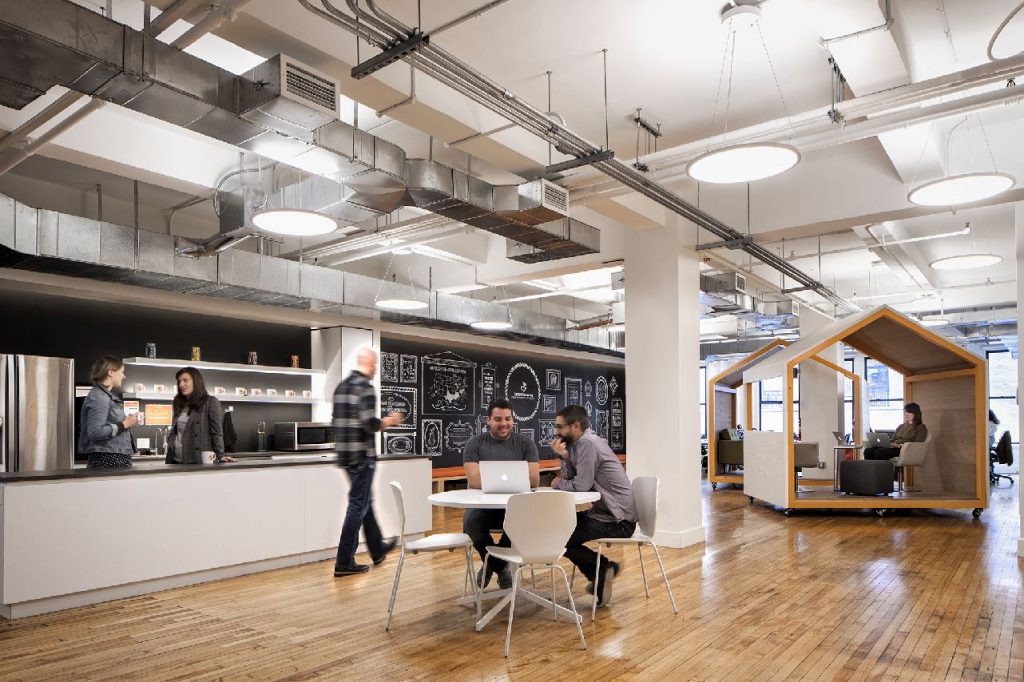 The national charity, DonorsChoose.org, needed a place that would motivate the staff.
Drawing influences from an iconic schoolhouse
aesthetic, the design takes the tools and forms
typically found in educational spaces and reinterprets
them for the modern office.